Financial Functions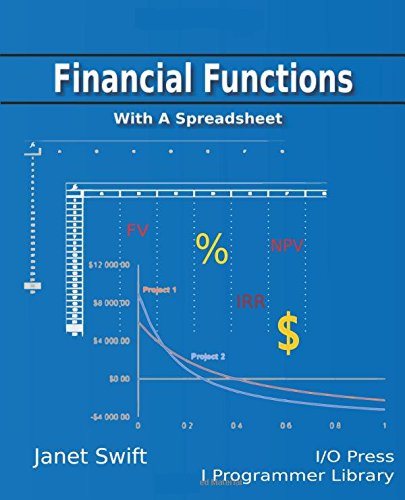 ISBN:978-18719622
Buy from: 
USA and World        Amazon.com
Canada               Amazon.ca
UK                   Amazon.co.uk
France               Amazon.fr
Germany              Amazon.de
Spain                Amazon.es
Italy                Amazon.it
Japan                Amazon.jp
Brazil               Amazon.com.br 
Mexico               Amazon.com.mx


Use the spreadsheet of your choice to make financial decisions relating to investments and loans.
Understand how inflation affects a cashflow and get to grips with internal rate of return.
Spreadsheets take the hard work out of financial calculations, but you still need to know how to do them. What the computer takes away is the need to be good at arithmetic. Computers do the sums for us, no matter how complicated or extended, and never get the wrong answer. This allows us to concentrate on the way that the calculations work rather than the arithmetic that they lead to.
Financial Functions With A Spreadsheet assumes that you are familiar with the fundamental operations of the spreadsheet of your choice, Excel, Google Sheets, LibreOffice Calc or similar, and introduces you to the built-in functions provided for making financial decisions.
Throughout the book sample spreadsheets and charts are presented with details of how you can construct them for yourself and use them for you own investigations and investment decisions.
Understanding Percentages
Time Is Money - Simple and Compound Interest
Effective Interest Rate
Introduction to Cashflow - Savings Plans
Cashflow Continued - Annuities
Exploring Repayment Loans
Coping With Irregular Cashflow
Investment Analysis
Advanced Investment Analysis - Internal Rate of Return
About the Author
Janet Swift is the author of several popular spreadsheet titles published by I/O Press. She has shared her extensive expertise with spreadsheets in many publications and on the Swift's Spreadsheets section of the I Programmer website, where she is a regular contributor, writing on topical issues to do with data analysis. 
Paperback:

 120 pages

Publisher:

 I/O Press (July 4, 2016)

Language:

 English

ISBN-10:

 1871962013

ISBN-13:

 978-1871962017